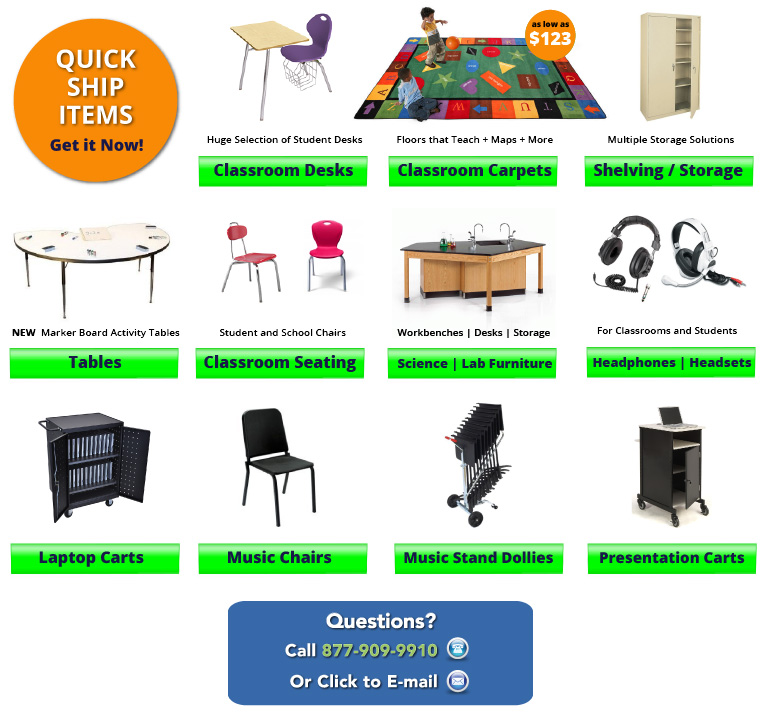 Don't forget this essential piece of technology for spring testing. Your assignment? Order before the 11/21/14 deadline and we'll guarantee shipment from our warehouse as early as March 3rd. Want us to ship them later? That's OK too, you choose when - anytime until June 26th, 2015. We're prepped and ready for orders large and small so you have what you need to administer assessments this spring.
Buying Guides
Headphones and Headsets

Choose the best headphones or headsets for your individual needs. Before making a decision, there are a few things you will want to understand. We discuss the following options:

Mono Headphones vs. Stereo Headphones, Comfort, Wireless Headphones, Plug Styles, Computer Compatible, Cord Styles, and Boom Microphones

Cafeteria Tables

Cafeteria Tables are available in many different styles, finishes, shapes and materials. This guide will help you to make an informed decision about which is right for you.

More Buying Guides
What Our Customers are Saying
"I wanted to thank you for a great experience in ordering our new choral risers. Your service was excellent and everything was delivered as promised, even earlier. It was a pleasure dealing with Today's Classroom and we will keep you in mind the next time we need any products you handle."
"I was really impressed with the pricing and selection your company offers. I spend quite a bit of time trying to find the best price and selection for what we were ordering and found that in Todays Classroom."
"Thank you very much for the extremely prompt delivery of the Deluxe Yacker Tracker - it arrived this past Monday and I don't think anything I have ordered from the States has ever arrived so quickly! I have put the flyer up in the classroom and have already had many comments on the brilliance of the YT!"
- Jim
- Michael
- Elizabeth
The Best Brands
We carry the best brands in school and classroom furniture at the best prices.