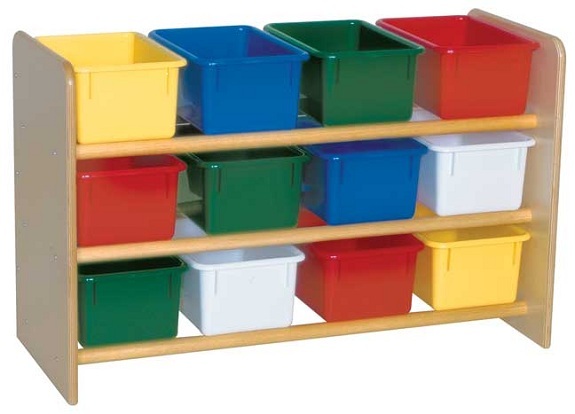 Early Childhood Shelving and Storage Buying Guide
Get the best use out of your preschool or nursery space by adding shelving and storage. Use this guide to help you choose what's best for you.
Type

Material

Accessories/Options
Type
Cabinets
Cabinets are great because most of them come with locks to keep important or hazardous items out of reach of children. You can find floor cabinets or wall-mounted cabinets for even more security.
Coat Racks
Coat racks are perfect for keeping coats, hats, scarves and other items out of the way and will add character to your room!
Shelves
Store books, toys, materials and more on wall-mounted or free-standing shelves. For a classic and long-lasting shelf, look for one constructed of solid wood.
Paper Storage
Not just for art rooms but any room, cubbies with a big enough depth is perfect for storing construction paper, posters or arts and crafts.
More Storage
No matter what materials or items you need t store, Today's Classroom is sure to have the right storage unit for you. We carry wood units, cubbies with or without bins, utility carts, lockers, storage racks and more!
Material
Plastic
Plastic is lightweight while at the same time durable. There are any different kinds of plastic materials. Some include: nylon, polyethylene, polypropylene and more. All of our bins are made of plastic (some eco-friendly).
Melamine
Melamine is an inexpensive but durable material usually made of a particleboard core and coated with a high-pressure laminate. This material can easily be cleaned and will resist most stains.
Plywood
Many of our storage units have a plywood core that is coated with a high-pressure laminate to resist stains and make them more durable. Plywood or particleboard is made from combining pieces of real wood and adhesive to make this strong material. Although the laminate coating usually comes in many colors, it is also available in finishes to give the illusion of natural wood.
Hardwood
This material is the most durable and long-lasting. Hardwood also has a very classic look and is available in many different finishes.
Accessories/Options
Backing
Many of our storage units (Jonti-Craft being the main manufacturer) offer backing options. The standard backing is normally plywood or pegboard. At an additional cost, we also offer dry-erase, flannel and chalkboard backing.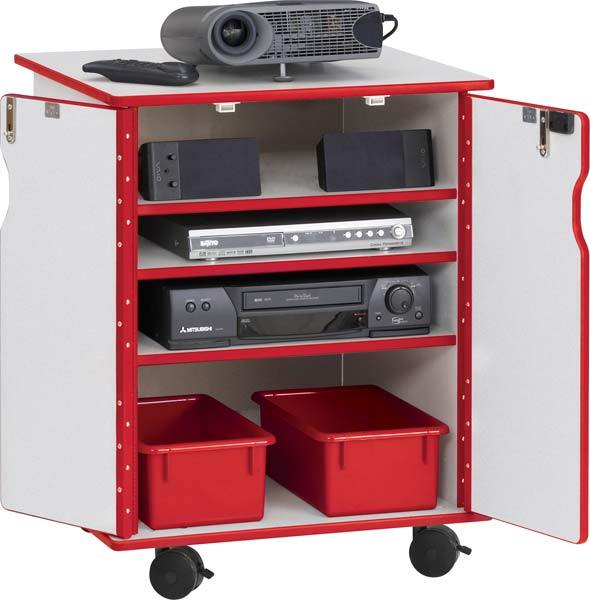 Casters
Casters are available more commonly on smaller storage units rather than larger ones to prevent any accidents. If your storage unit will be used from classroom to classroom or if you plan on rearranging at any time, casters are a good idea to make moving easy. Be sure at least two of the casters are locking!