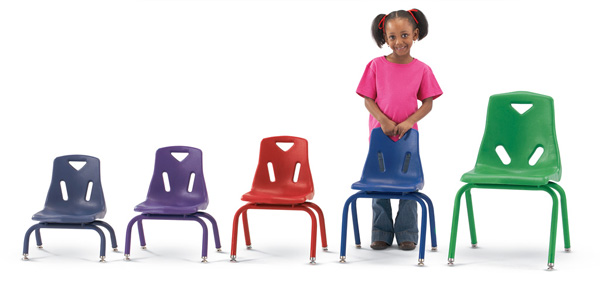 Use this guide to help you choose the best Preschool Chairs for your educational needs

Ordering preschool chairs can be a difficult task and there are several things to consider. Children in preschools can be all different sizes and grow very quickly, making it difficult to purchase something that will fit their needs for longer than a few months. Follow this guide to help you choose the best chairs for your preschool or daycare.
Seat Height and Recommended Age

Type

Material

Color

Legs and Glides
Preschool Chair Seat Height
Height and seat height of a chair are two very different things. The overall height of a chair is the actual height from the bottom of the frame to the top of the backrest on a chair. The seat height is the height from the bottom of the frame to the top of the seat. Seat height is one of the most important things to determine when ordering any type of chair, especially if the chairs will be set at a certain table height. If you already have chairs and need to order more, the easiest thing to do is measure the chair height of the chairs you already have. If you are starting from scratch, the general rule of thumb is to have at least 10 inches from the bottom of the table to the top of the seat of a chair.
Below is a chart to help you choose a specific seat height based on age. Please note that this is a standard guideline and the size of your student should also be considered before purchasing.
Preschool Chair Types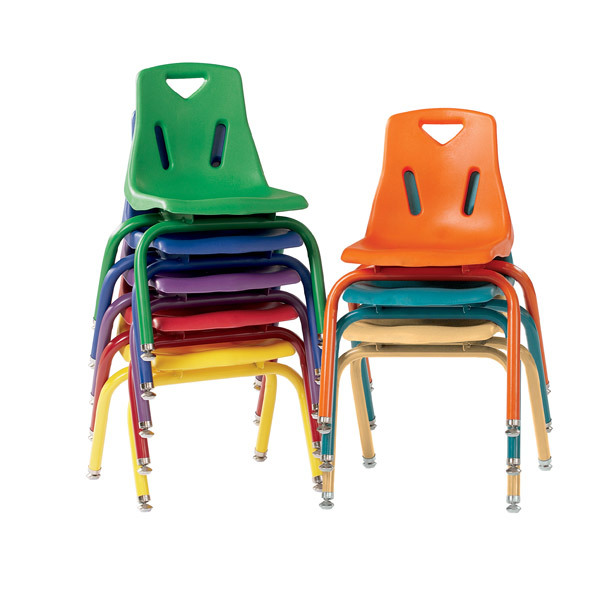 Stackable Chairs:

These preschool chairs are great for storing because they are designed to stack on one another. Also, to make cleaning easier, these chairs will stack on desks without falling. Stackable chairs are the most common type of preschool chairs purchased and are typically made of some type of plastic with glides to prevent scratching on floors.
Ladder Back Chairs:
These chairs are most commonly made of solid wood and normally found in a library setting. Ladderback chairs look exactly like what the name implies; the back of the chair features horizontal slats like a ladder. If you are looking for a classier look for your classroom, this may be a better choice for you than a plastic chair.
Rocking Chairs:
Rocking chairs are great for relaxing whether it is for the teacher or the students. This type of chair is great for story-time and will add coziness to your classroom. Most rocking chairs have a frame made of solid hardwood or polypropylene and steel to accommodate different tastes or settings.
Material for Preschool Chairs
Hardwood:
Hardwood chairs will have a larger weight capacity than plastic chairs and are very durable for years of everyday use. The most common hardwood preschool chairs are ladderback.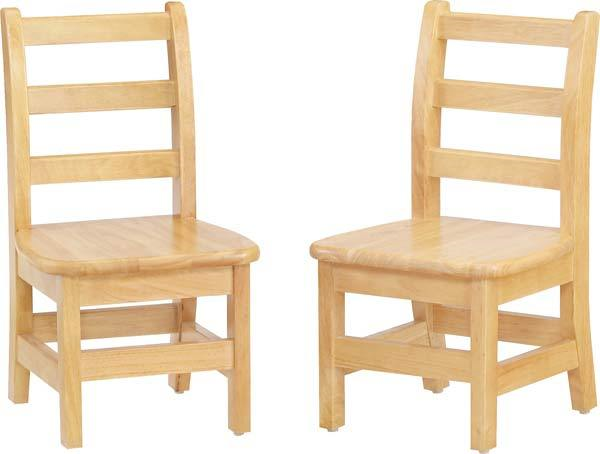 Plastic:
Plastic stacking chairs are most commonly made of 3 different types of plastic; polypropylene, polyethylene or plastic resin. These materials are specifically made for younger children because they are durable enough for everyday use as well as lightweight. To enhance comfort, polypropylene and polyethylene are just flexible enough to adjust to the movements of students. Plastic resin is not as flexible which in turn makes it a more durable chair choice.
Color
Colorful preschool chairs are specifically made of plastic to offer fun, attractive colors for the young students. Another great thing about these colors are that most can be color-coordinated to match your table top or table edge color. Create a fun-learning environment for your students by mixing and matching from our many colors choices.
Legs and Glides

Most chair legs including those in our line of preschool chairs are made of tubular steel and typically available in chrome. Many of our stacking chairs are available with chrome legs or powder-coated legs (which will match the seat color you choose). Also available are nylon glides or ball glides. Nylon glides are standard and resist scratches on the floor. Ball glides will match the color of the chair you choose and are only available with the powder-coated frames. These glides will add character to any preschool classroom.
If you need help determining the proper type of seating for your individual preschool, please give us a call today.