Use this guide to help you choose the best stacking chair for your environment. We have many styles to choose from!

If you have never ordered stages before, please read below to help you choose the best option for your needs:
Platform Material

Platform Surface

Platform Size

Height

Portable

Accessories
Stages are flat platforms that are raised from the floor and can be used for musical performances, ceremonies and more.
PLATFORM MATERIAL
Plywood - most stages are built with a solid plywood core and either have a hardboard laminate or carpeted surface. This material is very durable and will last you for years of use.
PLATFORM SURFACE
Hardboard - depending on your preferences, a hardboard surface may or may not be best for you. Most platform cores are made of solid plywood and have a hardboard laminate coating.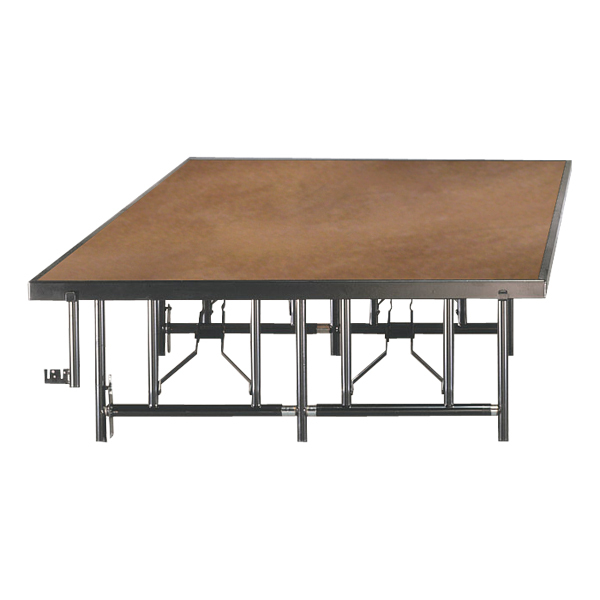 Carpeted - this option is a little more expensive than hardboard but also has its benefits. Carpeted platforms also have a solid plywood core but are covered in a commercial-grade carpet available in many colors. Carpeted platforms don't just give your stage an attractive appearance but also provide better sound absorption than hardboard platforms.
PLATFORM SIZE
Room Availability - the size of your stage will depend on the available room you have. The larger the room, the higher you will want the stage to be so everyone in the room has a clear view of the performers/performance.
Ceiling Height - choose a lower height stage if your ceilings are low to be sure your performers have enough headroom.
Performers/Students - another point to consider is the age or height of your performers. Stages for an adult choir would be a different height than stages for a children's choir. The younger the performers, the higher you will want the stages to be sure that all performers are seen by the audience.
MOBILE STAGES
Mobile stages can be easily folded and rolled to storage with their built-in wheels. Although this is more expensive than stationary stages, if your stages will be set-up and taken down often, you may want t consider spending the extra money for conveniency.
PORTABLE STAGES
Portable stages can also be easily folded and rolled away, however, these units do not come with wheels. In order to transport these risers, you will also need to purchase a caddy that the riser can be placed on and then transported. These units are less expensive than mobile risers but the purchase of a caddy will also be necessary.
ACCESSORIES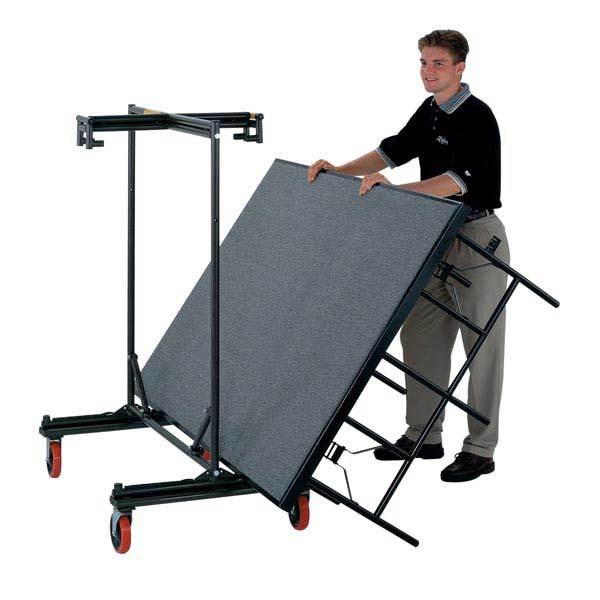 None of these accessories are required for stages but can definitely improve the appearance and quality of them.
Stairs - most stairs have included handrails for safety. If purchasing stages any higher than 8" high, you may want to also consider purchasing stairs to prevent any accidents. For any performances or events where people will be entering and exiting the riser, you will want to place a set of stairs at each end of the stage.
Guardrails - to prevent any accidents, especially with younger children, the purchase of guardrails is a good idea.
Caddies - these caddies are specifically designed to store and transport stages. A caddy won't be necessary if you purchase a mobile stage.
Skirting - to improve the appearance of your stages and to hide the legs of your stage, skirting can also be purchased (sold by the foot). Skirting is available in several colors and comes as a box-pleat or shirred-pleat. Depending on where you have your stage set-up, you may only need skirting for 3 sides or all 4. Skirting is attached either by a hook-and-loop tape or Velcro (sold separately).