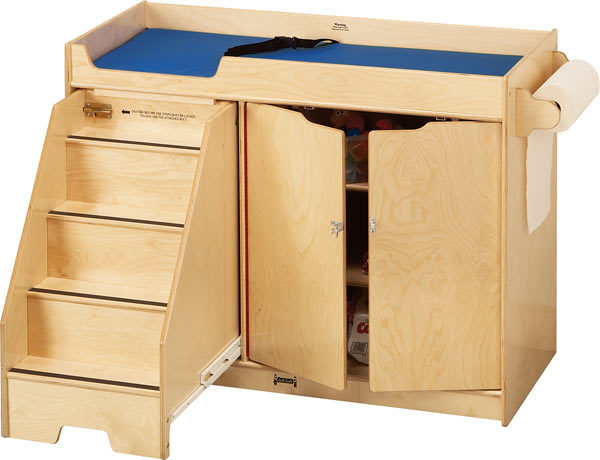 Changing Tables Buying Guide
It is very important to have at least one changing table in your daycare or nursery. Having this piece of furniture helps with keeping other areas clean and sanitary. Use this guide to help you choose the best changing table for your needs along with the many accessories to choose from.
Type
When considering purchasing a changing table, you'll want to make sure it can meet all of your needs. Some of the most important things to consider are the size of the table and the weight capacity. The standard changing table comes with a padding or cushion for the top and is 36 to 43 inches high. Below are traditional changing tables with other features:
Changing table with stairs
This type would be suitable for crawlers or toddlers to help them get involved.
Changing table with storage
This type usually comes with drawers, cabinets or both. This helps to keep things such as diapers, wipes, powder and more, close but out of sight of the children.
Changing table with built-in sink
This type is great for teaching children the importance of hygiene by following their changing with washing of the hands. Plus it is very convenient for the adult!
Wall-mounted changing table
If your space is limited, this may be a good option for you. When properly installed, these changing tables can be ADA compliant and can hold children or special needs adults up to 400 lbs. (but be sure to ask the weight capacity).
*Always secure children to the changing table, wall-mounted or not, and never leave them unattended.
Changing pads
Most changing pads will be a contoured or flat shape. Contoured is usually better for smaller children to prevent any falls. Safety straps should always be added to your changing pad to assure there are no accidents.
Accessories
Today's Classroom offers many accessories that can be added to any changing table or may already come equipped with them.
Storage
If you don't already have some type of storage like a cabinet or shelf for your baby items, you may want to consider a changing table with storage. You will want these items close you will never have to leave the baby unattended. If using a shelf, make sure it is high enough that the children can't reach. If using a cabinet, make sure it comes with a lock.
Portable Sinks
By having a sink close by, you can encourage good hygiene for your children. All of the plumbing is internal and most have a built-in water heater!
Stairs or Stools
Stairs are great for walkers to get let the help by climbing to the changing table themselves. A step stool is great for toddlers who can use it to get on the table and then to stand on to wash hands afterwards.
Safety Straps
Most changing tables already come with safety straps. If yours does not, it can be purchased separately and is sometimes a good idea to purchase a replacement safety strap if something were to happen to yours. These straps will keep children in place and prevent rolling or falling.
Liners, Rolls and Pads
To keep germs from spreading and your changing table as sanitary as possible, you will want to purchase liners pads, paper rolls and/or sanitary liners. Anything to keep your changing table as clean as possible for use with each child.
Safety
In order to obtain a safe changing environment, please consider the following:
Storage
Keep your frequently-used baby items or hazardous items out of reach of children by locking them in a cabinet or keeping them on a shelf, high enough to keep away from children. Storage cabinets can come attached to changing tables or sold as a separate piece of furniture.
Sturdiness
Make sure your changing table has a wide base to prevent tipping. If your changing table has casters, be sure that they are locked at all times, except for when it needs to be moved. Always know the weight limit of your changing table and the weight of your children. Once they exceed the weight capacity, discontinue use of the table.
Barriers
If your changing table doesn't already come with a safety strap, be sure to purchase one. This is important in preventing rolling or falling off of the table, this will also help in keeping the children still while changing. A 2" guardrail (or higher) on all four sides is highly recommended by The American Academy of Pediatrics to prevent accidents.
Mobility
Although casters are very convenient and beneficial, they are also a hazard if not locked. Make sure that all four casters on your changing table are locking. If they are not lockable, remove them and do without the mobility.