Use this guide to help you choose the best laptop or tablet charging cart for your classroom needs.

Before making a decision, there are a few things you will want to understand:
Today's Classroom carries many different laptop and/or tablet storage carts for classroom. Some can hold laptops, iPads or other tablets, some can hold all three. Some storage carts are capable of not just storing your equipment but also charging and syncing. Also, depending on the size of your classroom, our models of carts have different capacities. Follow the guide below to help you make the best choice.
Material

Capacity

Security

Recharging Capabilities

Electrical Access

Ventilation

Wheels
Material
Our Laptop and tablet carts come in steel, laminate, and wood finishes.
Steel

: The typical l

aptop/tablet storage cart

is made of some type of steel. This material will withstand years of heavy use and almost all of our steel laptop carts have a locking system to make sure all of your valuables are secure.

Laminate

: A less expensive route than steel, would be

laminate laptop storage carts.

Some of these models will not come with a lock so if security is not an issue for you, this would be an excellent choice.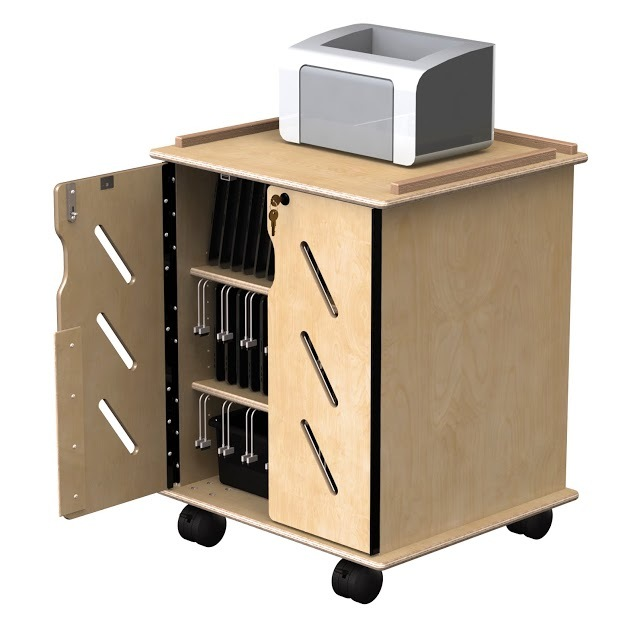 Wood

: This would also be an excellent choice for your classroom if the rest of your classroom furniture is wood or if you just like the look. The

wood laptop storage carts

would also be a less expensive option compared to steel.
Capacity
This is probably one of the most important things to take into consideration when purchasing a laptop or tablet storage cart for your classroom. Although smaller carts are easier to maneuver, you want to be sure that your cart can hold the quantity of laptops or tablets that you have. Our laptop storage carts are capable of holding anywhere from 15 to 32 devices. To make sure that our carts will hold the specific model you have, we have listed the dimensions of the compartment openings. If you cannot find this information, just ask!
Security
If security is your main concern, you will most likely want to purchase a steel constructed laptop storage cart. These carts are equipped with some type of locking system to better prevent any equipment being stolen.
Check out the LLTM30-B-RFID for RFID security!
Recharging Capabilities
Our laptop and tablet storage carts come with or without an electrical outlet plug for charging your
devices. This is great for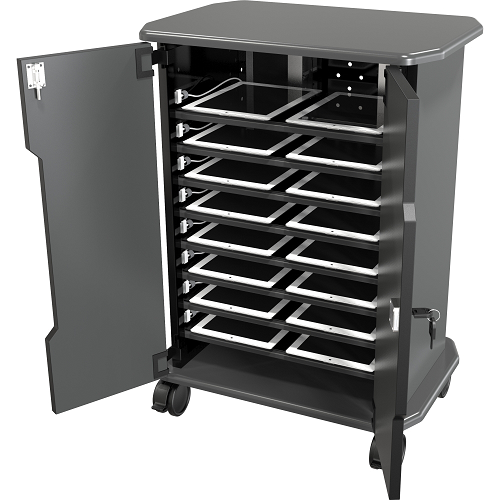 schools that keep their student's devices overnight. It will ensure that all the devices will be ready for use the next day. You may not need this feature if you only need to store your devices or if your students take their devices home every day.
Electrical Access
Depending on the age of your students you may want to consider letting them have access to the electrical outlets. If you have older students and want them to be able to plug in their own device after each use, then you will want a cart with the outlets in the front. If your students are younger and you don't want them having access to any electrical outlets, you will want to purchase a cart with the electrical outlets in the back so there is no ease of access for them.
Ventilation
Since running devices give off heat, especially when charging, you will want to make sure your laptop or tablet cart has good ventilation to prevent any damage to your cart or devices from
extreme temperatures. If you are only storing your devices in a cart, this feature may not be as important.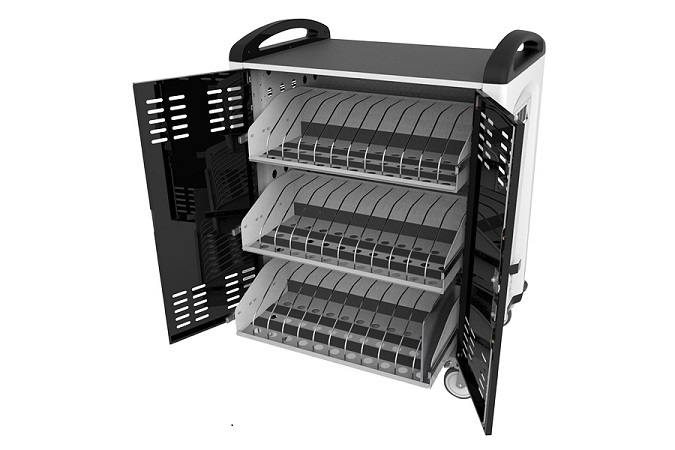 Wheels
All of our laptop and tablet storage carts are mobile and are on either casters or non-pneumatic wheels to offer the smoothest ride.
Please specify when ordering where you will be using your cart. If there is a chance you will be taking your laptop or tablet cart outside or over rough surfaces, you will want a cart with non-pneumatic wheels to prevent any damage to your cart or devices.
If you need help determining the right laptop or tablet storage cart for your classroom, please give us a call today.