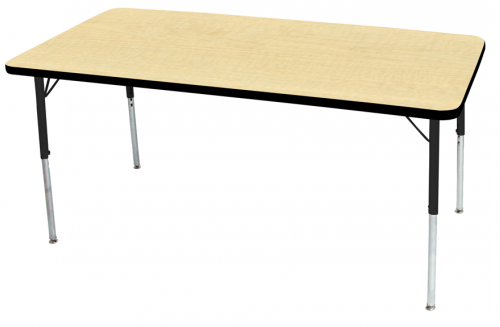 Activity Tables Buying Guide

Since there are so many different types and shapes of activity tables, it can get overwhelming when trying to choose the right one. Use this guide to help you choose the best activity table for your needs.
Shape

Size

Legs

Top

Glides
Shape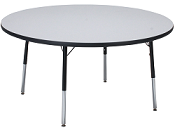 Today's Classroom has a wide variety of shapes for our activity tables. Some of the more common activity tables purchased from us are Rectangle, Round and Trapezoid. They can be used in classrooms, meeting or event rooms and are great for groups to be able to interact with everyone.
Some of the more common shapes for Early Childhood environments include Kidney or Horseshoe tables allowing the teacher or instructor to sit at the center of their students. This helps students to focus on their instructor. Flower, Daisy, Octagon and Clover shaped tables allow an opening for each student to sit in.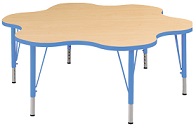 Size
In order to choose the correct size for your needs, there a few things you need to first consider. Determine how many students you are needing to seat, find the shape table you want then determine the size by how much room you have available. As a rule of thumb, you are required to have at least 48 inches of aisle space and at least 60 inches between tables for chairs.
Legs
Heighth
The majority of activity tables are adjustable in height. We offer 3 different adjustable heights on most activity tables; elementary, standard and ADA. The elementary adjustable height normally ranges from about 16"-24", standard height is about 25"-30" and ADA or wheelchair accessible heights are about 26.5"-35.5". All of these heights are adjustable by 1 inch increments. We also offer some fixed height activity tables which are normally at a 29" height.
Material
All activity tables come with a tubular steel frame. They are offered in Chrome or with a painted Powder-Coat. The lower the gauge, the stonger the frame.
Top
Particleboard

The standard core material of activity tables is particleboard. Particleboard is made of bonded pieces of all different wood.
Finish
Melamine is a finish that offers a smooth, moisture and stain resistant seal on top of the particleboard. This material is easy to clean and is less expensive than laminate because it is not manufacturered to last as long as laminate.
Laminate is a finish that also offers a smooth, moisture, stain and scratch resistant seal on top of the particleboard core. Laminate is a little more expensive than melamine because it provides more durability.
Edge
We offer 2 types of edging on our activity tables, T-Mold and PermaTuff. A T-Mold edge is typically a vinyl material that is glued securely to the edge of the table to give it a perfect finish and is offered in multiple colors or your standard black. A PermaTuff edge is extremely durable and is suggested if your tables will be used for a younger age group. This material guarantees that moisture will never come in between the edge and the table. It also won't allow the edge to separate from the table by children picking or pulling at it.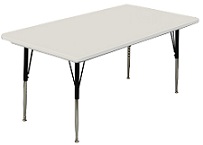 Blow-Molded Plastic
Some activity tables are made with a blow-molded plastic top which is very lightweight. These are waterproof and very easy to clean. The frame on these tables is welded underneath the entire table making it very durable and sturdy.
Glides
Activity tables typically get heavy traffic because there are so many uses for them in so many different environments. The best glide option for an activity table is a self-leveling nylon glide. This glide will prevent tables from wobbling and help to keep an even work surface for many, many years.