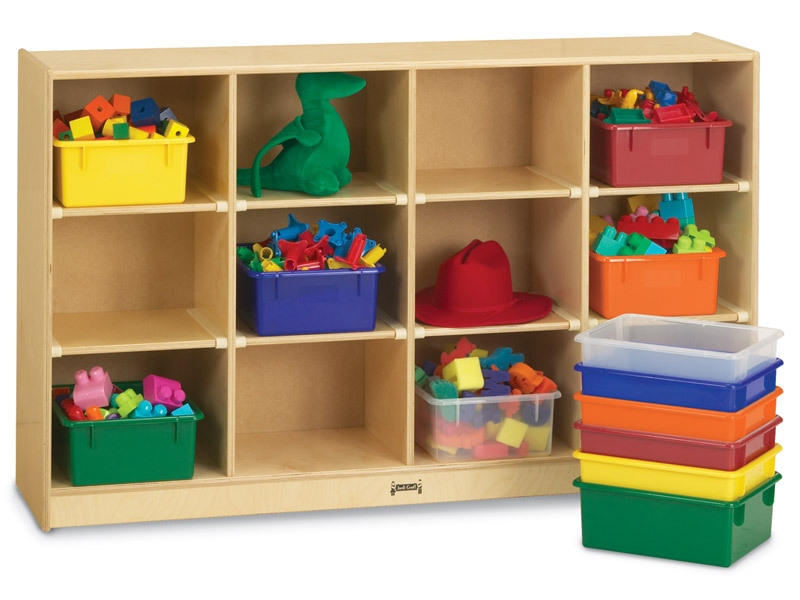 Cubby Storage Buying Guide
Cubbies can be used for storing student's books, shoes, lunches, jackets, school work or projects and much more. The openings on cubbies are smaller than the openings on a locker unit which is why they are better for smaller items. For better organization, order cubbies with tubs.
Dimensions

Openings

Storing

Material
Storage Tubs
Most of our cubbies come with the option of plastic open tubs or no tubs. If you are wanting to eliminate clutter, colored or clear open tubs will do the job for your cubbies. To even better your cubby organization, label your tubs with a sticker so students know exactly where to put their supplies or toys. Additional tubs can always be purchased.
Dimensions
If you will be using your cubby as assignment bins for homework or notebooks, you may want to purchase a cubby with small, tray-sized openings. Other units have larger openings which would work perfect for bigger items and storage tubs. Some of our cubbies have large and small openings and even paper slots, all depending on your needs.
Openings
The number of openings you need depends on your class size and whether each student will have their own cubby or if they will be sharing with another student. Our cubbies can come with anywhere from 6 ,8,9,10,12,16,20,24,25,30,and 32 openings. If your cubby will be used for larger items you will want a cubby with fewer but larger openings. Also, consider buying a cubby with more openings than students in case your class grows.
Storing
If your cubby will be used in multiple classrooms or if you would like to store it away, consider buying a cubby with casters or a folding cubby where both ends fold in to close and lock the unit.

Material
Since most cubbies are for early childhood classrooms, they are designed to last for years of use. Some of our cubbies are made of birch plywood with a laminate finish, which has a natural wood looking finish. Other units are made with a thermofused laminate which can come in kid-friendly accent colors. Both materials have about the same durability so the material is usually based on your preferences of color.