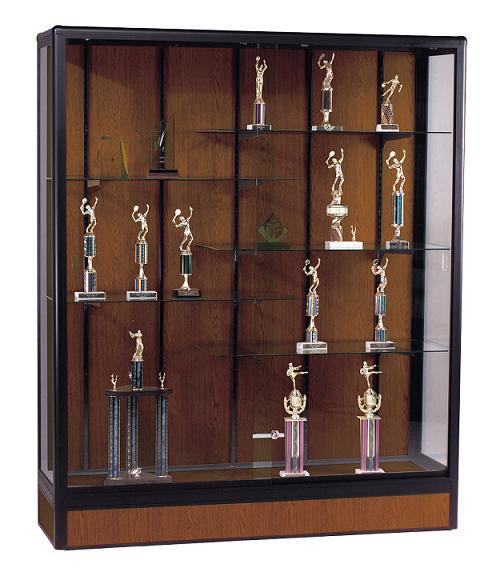 Display Case and Trophy Case Buying Guide
Display cases are a large investment and will be one of the first things students, parents and visitors see when entering your school. Follow this guide to help you best choose the display case for your needs.
Type

Lighting

Shelves

Frame

Backing Material

Doors
Type
Wall-Mounted
If you are looking for a case to display smaller pieces such as photos, awards/ribbons or announcements, a wall-mounted display case may be what you need. Not only are these less expensive than floor cases but they also take up less room which may be what you need if you have a small space for displaying.
Freestanding
These cases are typically larger than wall-mounted display cases and can be placed flat against a wall or in a corner. A freestanding display case would be best for larger items such as art work, trophies, jerseys or sports equipment.
Lighting
Illuminated display cases are great for areas of the school that are most seen by visitors and the public. When visitors come to a sports event or theatre performance, having an illuminated display case showing your students awards and achievements is a great accent. The lighting also makes it easier for people to read material and draws their attention to your school's success.
Shelves
Depending on what you will be displaying in your case, you will want to be sure that you have enough shelves and enough clearance between shelves for your items. Items such as trophies, can sometimes be very tall, so you may want to only have two shelves. For smaller items such as art work or awards, you may want several smaller shelves. The best thing to do is measure the items you will be displaying before choosing.
Frame
If your display case will be in a high-traffic area or where bumps will be a possibility, an aluminum frame will be more durable than a wood frame and also has a more modern style. If you are looking for a more traditional style, you may want to purchase a display case with a wood frame.
Backing Material
Loop Fabric Backing
With this material, attach the items you will be displaying to the back by using hook tape. This allows for items to be displayed without the using push pins.
White Laminate Backing
This backing is easy-to-clean and is stain resistant which makes it perfect for displaying artwork or photos.
Mirrored-Backing
This would also be a great option for artwork because the mirror will reflect every angle of the art piece, giving the viewer access to each side without touching the art work.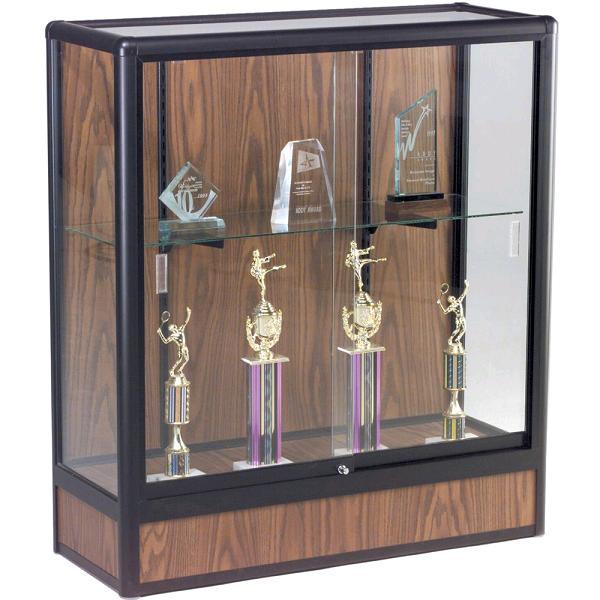 Cork Backing
If your display case will mainly be used for announcements, photos, posters or bulletins, a cork back is a great option because it allows for items to be pinned and unpinned over and over again without ruining the material. This is also usually the cheapest of all the backing options.
Doors
Larger display cases and most wall-mounted display cases typically come with a sliding glass door. This makes it easier and safer when opening the cases. Some of our corner units or smaller freestanding display cases are equipped with swinging glass doors for easier access. Both options come with locks for safety.